Soggy Po' Boys Album Release Show w/Say Darling
Fri, Oct 25, 2019 @ 9:00 pm
Doors at 8pm | Show at 9pm | 21+
$10 Advanced | $15 Day of Show 
About Soggy Po' Boys
"..with all the ebullience and spirit that's the stuff of life. Eat up." – Debbie Burke
The Soggy Po' Boys are a New England-based septet that offers an unforgettable experience of traditional New Orleans music. Come out to celebrate the release of their new album "All In Favor" and bask in the rich New Orleans-inspired sound.
Born on a snowy Fat Tuesday night of 2012, the Soggy Po' Boys have been honing their craft of New Orleans' music in their hometown of Dover, New Hampshire. The New Orleans flavored septet doesn't just play their weekly gig and call it at that. No, they fit in more than a hundred shows every year, from festivals and concerts to politics-infused burlesque collaborations and street parades.
Part of the beauty of New Orleans music is that it's celebrated and appreciated wherever it goes, from the street to the theater. The Po' Boys are doing their part to spread the greatest music on earth around their home in New England and when touring, throughout the rest of the country. The Soggy Po' Boys serve their jazz messy, mixing brass-fueled mayhem with spirituals, Meters-style old-school funk, and the Caribbean side of the New Orleans tradition.
WEBSITE | FACEBOOK | INSTAGRAM | MUSIC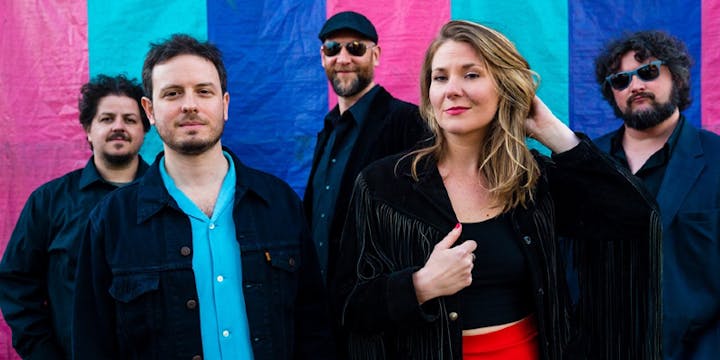 About Say Darling
It was only a matter of time for a project like 'Say Darling' to come together…a band of old friends and road warriors – a super group of sorts – from the New England Roots Rock and Americana scene.
Grammy Nominated singer and songwriter Celia Woodsmith – of the acclaimed bluegrass band 'Della Mae' – and crtically lauded guitarist Chris Hersch of the Alt. Country Rock band 'Girls Guns & Glory' – took the opportunity to form the band they always wanted when both tenures with these international touring acts came to a close.
Welcome to 'Say Darling'.
Country, R&B and Blues may be the backbone of the band, but make no mistake, 'Say Darling' rock out. Powered by Woodsmith's straight-from-the-depths vocalizing and Hersch's finger-flying fretwork (and fortified by vintage Hammond organ tones and rhythm-ready drums) this gutsy ensemble embraces its roots yet keeps its feet firmly in the here-and-now.
Blending distinctive original songs with classic tunes that pay homage to a shared musical heritage, 'Say Darling' evoke the funky drive of Little Feat, the moving vocals of Bonnie Raitt and the instrumental prowess of the Tedeschi-Trucks Band while maintaining a firm identity of its own.